Samsung Stretched Display SHF 37"
New widescreen 16:4.5 stretched displays with continuous 24/7 operation capability
Unparalleled visual effect with high brightness (700 nit) and non-glare panels
Straightforward display and content management with DP Loop Out and USB Playback functionality
Maximise space and optimise content with Samsung SMART Signage solutions
Digital signage today needs to be versatile and cost effective with an emphasis on maximising space and efficiency. There has been an increasing need to utilise niche spaces with effective signage solutions. Samsung SHF Series displays, with 16:4.5 wide screen stretched display offer the ability to effectively communicate information in small, narrow spaces such as store shelves, ceilings, and corridors. 
When used in a 24/7 transportation environment, Samsung SMART Signage SHF Series displays are an invaluable asset in keeping travelers apprised of changing schedules providing clear, easy to read, vibrant information that can be consumed at a glance.
In retail environments, SHF Series displays offer unique opportunities to promote products or entice customers with product information using minimal amount of space. With the capability of continuous 24/7 non-stop operation, you can rest assured that customer engagement will be at an all time high.
Deliver sharp images in various lighting conditions
Samsung SMART Signage SHF Series displays deliver vibrant, realistic images offering an unparalleled visual experience. Featuring brightness levels of up to 700 nit, these displays deliver the clearest, richest images regardless of lighting conditions. SHF Series displays excel in situations with strong light and where glare may present an issue. With a non-glare panel, you can rest assured that your content will not be obstructed by lighting conditions outside of your control, and you can be confident that your content will look great anywhere.
Customise content from portrait to landscape and display with simplicity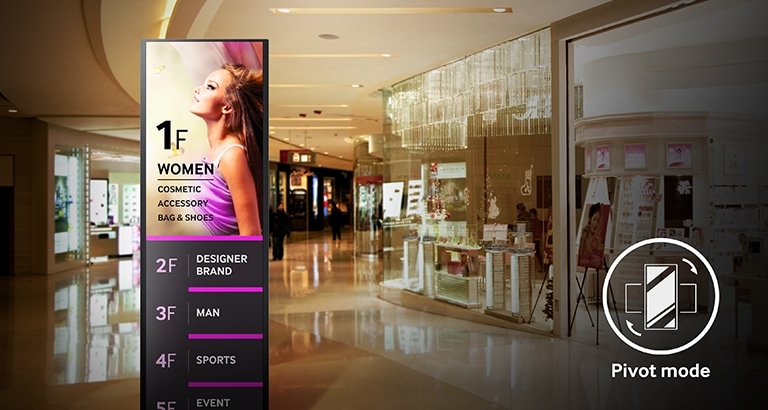 Samsung SHF Series displays offer pivoting capability along with image rotation software that can change image orientation from portrait to landscape for greater display flexibility. Images do not require rotation in image editing software to make them appear correctly in a different orientation as this capability is handled automatically within the display. The 16:4.5 wide screen format enables you to create a rich interactive experience in a multitude of ways in a variety of spaces. Content is fully optimised and the display allows for greater flexibility since it can accommodate content in any orientation. Easily deliver vibrant, realistic images with ease and simplicity. Pivot mode makes it optimal for playing contents of 540x1920 size.
Maximise viewer engagement with minimum use of space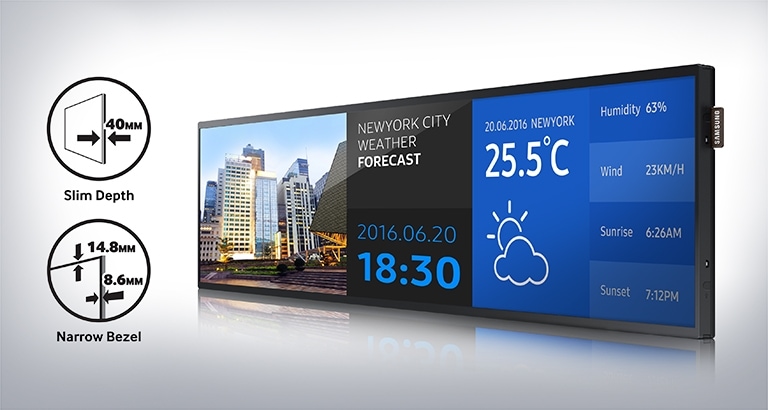 Samsung SHF Series displays feature a slim profile with a depth of only 39.9 mm which allows you to maximise available space. This enables the display to be installed in areas where space is limited and allows content to blend seamlessly with the environment in a slim, light, design with reduced power consumption for lower operation costs. A slim bezel design of only 13.9 mm (T/B) and 7.5 mm (L/R) allows for fewer distractions in the content and allows your message to shine in a clear manner.
Daisy chain multiple displays without the need for additional equipment
Due to the relative novelty of UHD in commercial display settings, few media players currently offer support for UHD streaming. To meet this demand, Samsung launched an optional Set Back Box (SBB) that can support UHD content, which can be attached to the back of the SHF Series. The simple installation of this SBB eliminates unnecessary wire clutter and also removes the need to create separate housing for the media player.
Specification
Display

Diagonal Size

37"

Panel Type

Edge type, 60hz

Resolution

1920 x 540 (16:4.5)

Pixel Pitch (HxV)

0.4686(H) X 0.4686(V)

Active Display Size (HxV)

899.712(H) x 253.044(V)

Contrast Ratio

4000:1

Viewing Angle (H/V)

178/178

Response Time

16ms

Display Color

8bit - 16.7M

Color Gamut

72 %

H-Scanning Frequency

54 ~ 69.75kHz

Maximum Pixel Frequency

148.5MHz

V-Scanning Frequency

48 ~ 62HZ

Brightness

700nit

Connectivity

HDMI In

1

DP In

1

DVI In

1

Tuner In

N/A

USB

1

Component In

N/A

Composite In

N/A

RGB In

DVI-I (D-Sub Common)

Audio In

Stereo Mini Jack

Video Out

DP

Audio Out

Stereo Mini Jack

RS232 In

Yes

RS232 Out

Yes

RJ45 In

Yes

RJ45 Out

N/A

IR In

Yes
---
We Also Recommend